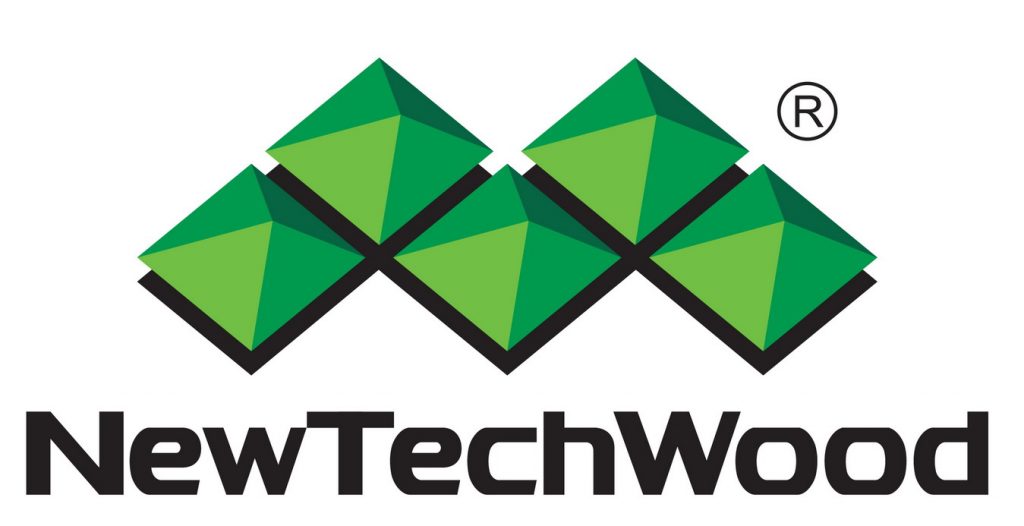 A new concept of DIY and make green products more green.
Capped Composite Deck Tiles
NewTechWood UltraShield Deck Tile is a 100% eco-friendly capped composite deck tile comprised of natural wood grains and interlocking base for quick and easy installation. Also, the decking tiles will not bend, warp, split, or crack so not only is it easy to install, it is virtually maintenance free.
UltraShield Capped Composite Deck Tile's interlocking system is also raised to allow for proper drainage of water and pools that could be created during heavy rain. The innovative interlocking deck tile was designed to be used by anyone from DIY beginners to veteran builders looking for a gorgeous, easy to install deck.
NEWTECHWOOD ULTRASHIELD® TECHNOLOGY
UltraShield, is a true game changer in the composite decking industry
Conventional wood plastic composites are a thing of the past. In 2010, NewTechWood® began a project to design and formulate the most durable, most attractive, most fade and scratch resistant, most beautiful and most reliable composite deck board in the industry: NewTechWood UltraShield®.
A few years of engineering and countless hours of field-testing has yielded a product of unmatched performance and beauty. UltraShield combines the proven strength of high density polyethylene plastic and wood fibers with an outer shell of polymer that completely encapsulates the board in an impermeable layer of protection that provides scratch, stain, and fade resistance.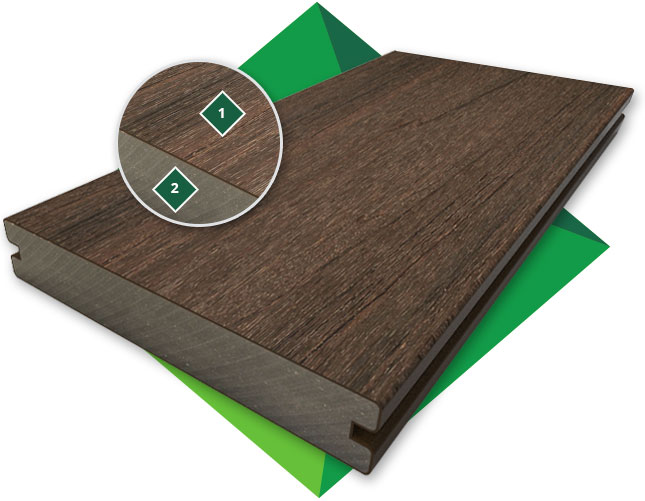 1. CO-EXTRUDED CAP
UltraShield is a capped wood plastic composite, which means it has an advanced premium shield encasing ALL four sides around its inner core. The shield and core are extruded together under a very high temperature mold simultaneously, so there are no adhesives or chemicals that are harmful to the environment.
2. COMPOSITE CORE
The core is made from carefully selected recycled material and highly dense recycled hardwood and softwood fibers that allow for greater strength and durability, and best of all it's 100% recyclable.
WHY INSIST TO CAP COMPLETELY AROUND?
Because this is the only way to give ULTRA protection. Making the board capped 360 degrees will give the board maximum protection against: mold/mildew, stains, fading, cracking, cupping, and swelling.
Note: Swelling can still occur on the cut ends so it is recommended that the ends that are cut have a sealant or end cap applied to them.
Capping 360 degrees provides complete protection all around the board and even in the groove of the board. This is the only way to complete protect the board from UV, water, insects, and any other mold/mildew from attacking the core.
Note: The core is still susceptible to the outside elements so it is recommended to either use a sealant or end caps to cover up any ends that are not protected.
ULTRASHIELD PROTECTION:
The shield uses an advanced engineering polymer to create a formulation which gives the boards ultra protection against: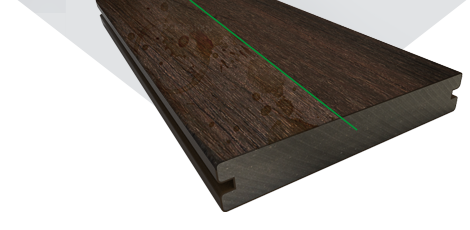 Stains
Wine, coffee, soy sauce, vegetable oil etc. cannot stain the board. Messes can be easily wiped off the surface because the liquid never gets absorbed by the shield, which makes UltraShield very easy to clean and low maintenance.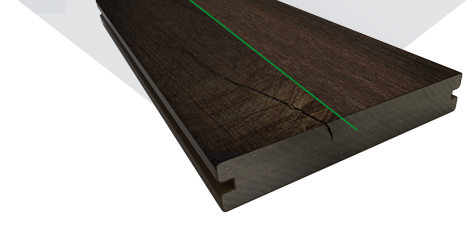 Splitting
The shield provides an impermeable layer, splitting is not able to occur on the surface of the board, therefore, giving UltraShield a longer life span than regular uncapped composites.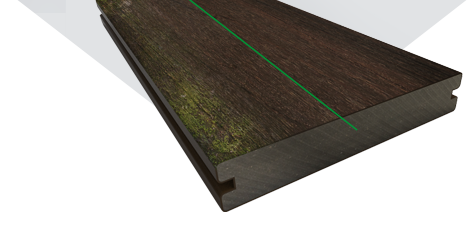 Mold
The shield provides protection from the core of the board and prevents mold and mildew from growing and eating at the board. (Mold could still grow on the surface of the board from standing water,but can easily be cleaned away with a hose and /or broom as it is not growing on the board but on the water)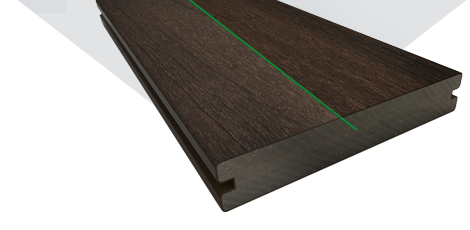 Color Fading
The unique formulation of the shield ensures its color stays much longer compared to conventional composite decking. The result of many hours of testing have shown that the color is steadfast and has only shown to have very minor changes in color over many years.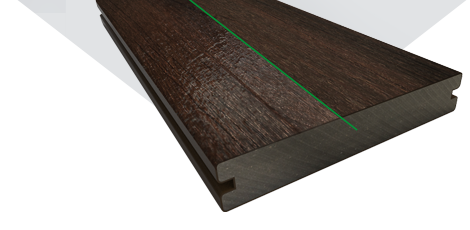 Painting and Oiling
The multichromatic colors are a part of the shield's formulation meaning that you will never have to paint, sand, or oil again.